Looking for a way to get your child moving and having fun? Physical activity is important for kids of all ages, and there are a variety of fitness classes available that can help your child stay active while also teaching them new skills. Here are some great fitness classes your child should take:
Swimming lessons
Regardless of whether you live near a body of water, swimming is a great activity for kids of all ages. In addition to being a fun way to exercise, swimming offers several important health benefits.
For example, swimming can help to improve cardiovascular fitness, build muscle strength, and increase flexibility. Furthermore, swimming is a low-impact activity that is easy on the joints. As such, it is an ideal form of exercise for children who are overweight or have joint problems. Finally, swimming is a lifesaving skill that can come in handy in emergencies.
Dance classes
A child who takes dance classes will develop grace, confidence, and coordination. Dance classes provide a great workout and a fun way for kids to socialize. In addition, dance classes can help your child develop a lifelong love of the arts. Classes typically start with a warm-up, stretching, and then learning choreographed dances.
As your child progresses, they will have the opportunity to learn more difficult steps and routines. Dance classes are typically offered for children of all ages and levels of experience. So whether your child is a beginner or has been dancing for years, they can find a class that is right for them.
Tai Chi classes
Tai chi is an ancient Chinese martial art that offers a wide range of benefits for both children and adults. For children, Tai Chi can improve focus and concentration while teaching them valuable self-defense skills. In addition, Tai Chi can help to boost confidence and self-esteem. And because Tai Chi is a low-impact exercise, it is ideal for children who are not ready for more strenuous physical activity.
If you want your child to learn Tai Chi, it's best to learn it with them. This will help them to feel more comfortable in class and make it easier for you both to practice. There are many different classes available. Some instructors deliver classes through Tai Chi videos online. This is a great option if you don't live near a studio. It can also be a good option if you are new to Tai Chi, as it is less intimidating than attending classes in person.
Gymnastics classes
Gymnastics is a great activity for kids of all ages. It helps with coordination, strength, and flexibility. It's also a great way to make new friends. There are different types of gymnastics, so your child can find the perfect class for them. If your child is shy, taking gymnastics classes can help them become more confident. Gymnastics is a great way to stay active, and it's also a lot of fun.
Classes are typically one hour long, and they're offered at different times throughout the week. You can usually find classes at your local recreation center or gym. Most classes have a minimum of eight students and a maximum of twelve students. This allows each child to get the individual attention they need to succeed. Gymnastics classes are affordable, and most recreation centers offer scholarships for families who cannot afford the fees. You can also find many gyms that offer free trials so your child can try out the class before you commit to paying for it. Gymnastics classes are a great way for your child to stay active, make new friends, and learn new skills.
Organized sports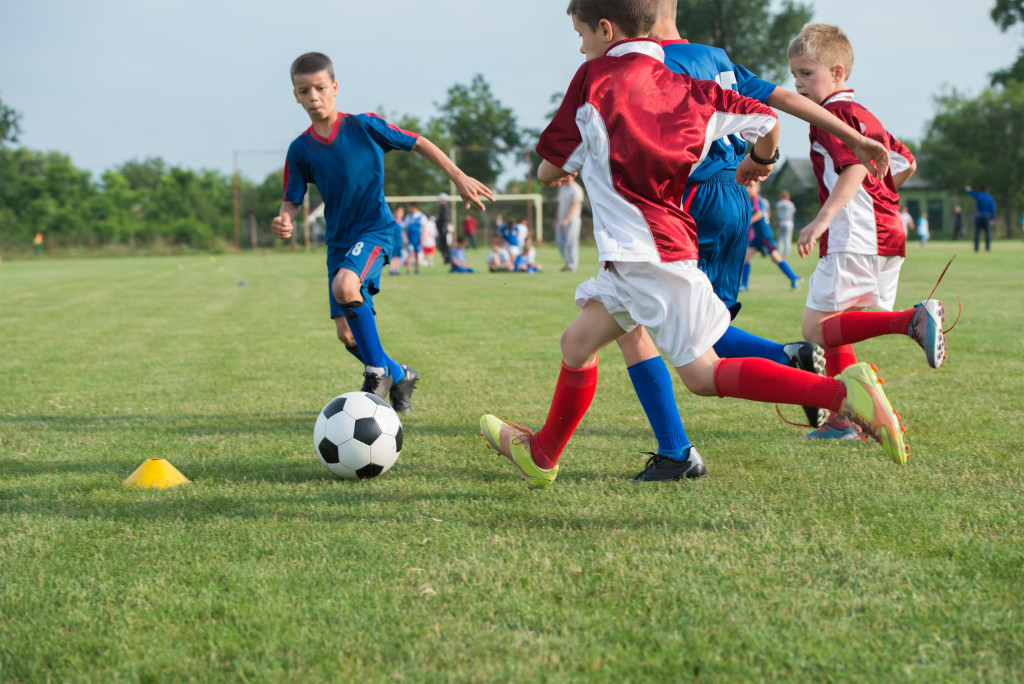 Organized sports offer many benefits to children. They can help to improve physical fitness, learn teamwork, and develop discipline and self-confidence. In addition, organized sports can provide an outlet for creative expression and a sense of belonging. For these reasons, your child should take part in organized sports.
Sports also teach children how to set and achieve goals. Through regular practice and gameplay, children learn how to identify their personal strengths and weaknesses and work to improve their skills. In addition, they learn how to persevere in the face of adversity and maintain a positive attitude even when they are not winning. As a result, children participating in organized sports often carry these valuable lessons with them throughout their lives.
Yoga and meditation classes
As a parent, it is important to provide your child with opportunities to grow and learn in various ways. Taking yoga and meditation classes is a great way for your child to develop physically, mentally, and emotionally.
Physically, yoga helps improve flexibility and strength while promoting better posture and breath control. Mentally, yoga allows your child to focus on the present moment and still their mind. Emotionally, yoga can help your child to regulate their emotions and become more resilient in the face of stress. In addition, meditation provides a unique opportunity for your child to explore their inner thoughts and feelings in a safe and supportive environment.
Many great classes are available for children who want to start getting active and having fun. Whether your child wants to learn how to swim, dance, or play a sport, they are sure to find something that they enjoy. And by getting active at a young age, your child can learn valuable skills and habits that will help them stay healthy for years to come.