With Covid-19 and its new variants still around, people feel safer holding their intimate gatherings and celebrations at home. Many homeowners did renovations specifically for this. The home is now even more central to people's lives and not just a place to sleep before rushing off again in the morning.
Home Celebration Ideas
1. Celebrate the holidays any time of the year.
Many families could not get together for Thanksgiving, Christmas, or New Year's Eve because of the pandemic. You can still celebrate any of these holidays with matching decorations after you are all fully vaccinated. You can even put up a Christmas tree in spring and exchange gifts.
2. Have a themed party.
That can be any party that you want. It could be based on your favorite movie, TV show, or Halloween. Just make sure that everyone knows about it ahead of time, so they can dress accordingly.
3. Have a karaoke party.
If you love to sing, this is the perfect party for you. Have everyone dress as their favorite singer. Karaoke is always more fun when it's themed.
4. Have a talent show.
Ask everyone to prepare any performance, from singing to dancing or magic tricks. People can also perform in twos or threes.
5. Make a DIY photo booth.
Capture memories with your friends and family. Prepare different backdrops and props. You can make it as simple or complex as you want.
6. Have a bonfire.
Get a professional to build a robust fire pit in your yard. You need this to ensure that your bonfire is safe and will not be a fire hazard. Prepare marshmallows and hotdogs for roasting.
7. Have a barbeque.
If the weather is nice, nothing beats a barbeque. Get together with your friends and family and cook up some food on the grill. Have some meat and seafood and pair these with corn on the cob, salads, and fresh fruits.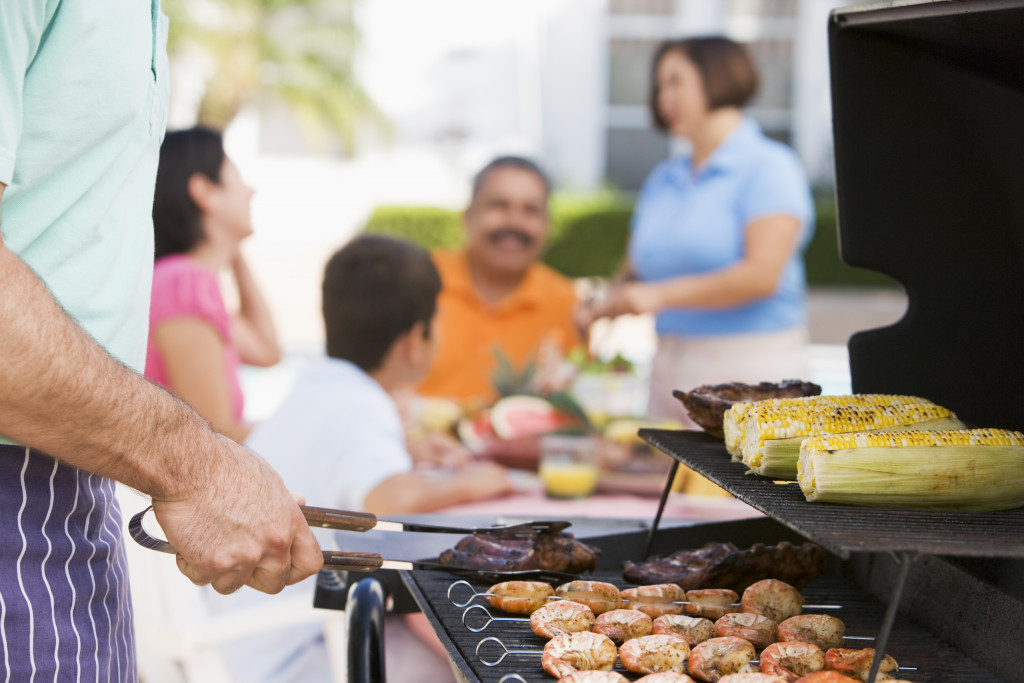 8. Go camping.
That can be just as fun in your backyard. Set up tents and sleep outside. Turn off all the house lights to make stargazing more enchanting. Identify as many constellations as you can.
9. Have a pajama party.
Spend a laid-back evening with your friends or family in your pajamas. Reminisce and get sentimental. Remember funny moments and have a good laugh.
10. Throw a pool party.
This is the perfect way to cool down in the summer heat if you have a pool. Get creative with the decorations and food. Play pool volleyball. If you don't have a pool, get an inflatable one. Add some water hoses and have a water fight.
11. Have a movie marathon.
That can be done inside or outside, depending on the weather. Prepare all of your favorite snacks and drinks. Stream the latest movies, rewatch your favorite classics, or do a combination. You can even make it a theme night, like horror movies or romcoms. After all, you have the whole night.
12. Play games night.
That can be board games, video games, or even just sports outside if you have the space. Prepare prizes for the winners.
13. Have a potluck dinner party.
Get everyone cooking. Everyone brings a dish to share with the group. Make sure to coordinate so that you don't end up with the same dishes. It's an excellent way for people to present their specialty dishes.
14. Have a wine tasting party.
If you and your friends are wine lovers, this is the perfect party. Taste different types of wine and vote on your favorites. Prepare food that goes well with the wines that will be served.
15. Cook a big meal together.
Get everyone in the kitchen and cook together. Choose dishes that everyone can help prepare.
16. Bake cookies together.
Bake some cookies and have a contest to see who can make the best-looking and best-tasting ones.
17. Make a gingerbread house.
That can be a fun project for the whole family. Get creative with the decorations and have a contest to see who makes the best gingerbread house.
18. Make edible arrangements together.
Choose fruits that are in season and make arrangements that will look beautiful and taste great. You can use different dipping sauces to enhance the flavors.
19. Make a scrapbook together.
That can be a fun project for groups or couples. Choose photos and memories to include in the scrapbook and get creative with the layouts.
20. Hold an arts and crafts night.
Get together with your friends and make some fun painting in any medium or doing crafts that you can display in your home afterward. You can also make sculptures using air-drying clay.
21. Have a fashion show.
You can do this with your friends or family. Dress up in your favorite clothes and vote on who has the best style. You can also ask everyone to bring clothes that they are ready to discard and have everyone try on everyone else's clothes. You can then swap. If several people want the same item, raffle it off.
Have Fun
Hosting a fun home celebration or project is a great way to bring people together and have some laughs. These are some ideas to get you started. You can mix and match them and add yours, too. Grab your friends or family and get celebrating!