The time you've spent with your family during the multiple government-mandated lockdowns gave you a taste of how wonderful it would be like to spend time with your loved ones. And if you're like the rest of us, it would've left you wanting more.
But don't worry, as the world slowly but continuously recovers from the impacts of the COVID-19 pandemic, more options for top-quality family vacations are sprouting everywhere. And to help you narrow your choices down, here are eight outdoor activities you and your family could enjoy broken down for each season and budget capabilities.
Winter
Nothing beats hitting gnarly slopes in the winter. This adrenaline-inducing activity is not only fun but also beneficial for your body. It's a great way to exercise during a time when most are tempted to hibernate. It burns calories easily, strengthens your lower body muscles, reinforces your core muscles, improves both your flexibility and spatial awareness, and even boosts your mood.
You can try Denver's Breckenridge and its 187 trails across almost 3,000 acres of snowy terrain. If you want a homier vibe, going to Big Sky, Montana, can also be a great decision since it's almost near in comparison to Colorado's Vail Ski and Beaver Creek Resorts. But if you're more into enjoying the kid-friendly mini-slopes, Woodward Park City in Utah would be the ideal destination. Ensure to gear up. Whether it's a men's Arcteryx ski jacket or a ski helmet for the kids, your family's safety should always be the priority.
Budget — Hold a Snow Sculpture Competition
Nothing screams winter wonderland more than a snow sculpture competition. Bring out the competitive side of the family and let your creativity unravel. You can easily do it just across the street or even in your front yard. You wouldn't have to pay for anything since snow is free. And all you need to rely on is how creative your family is.
On a side note, though, spending a bit more on the prize can make it more exciting. It can be a great way to find out what the kids want for Christmas as well. So, win-win.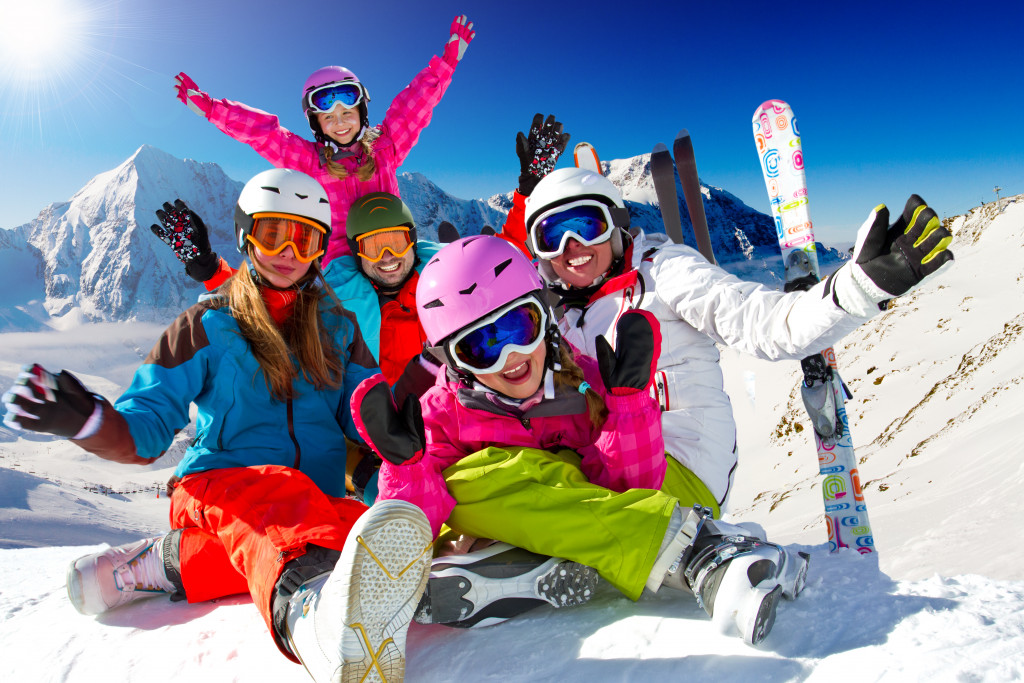 Spring
Bougie — Visit a Flower Field
Spring is the perfect time for you to educate your children regarding the elegance of nature. A tour around famous flower fields can bring color to the blandness of the past two years. You can visit places like Carlsbad, California's exhibit of Mother Nature's beauty, Woodburn, Oregon's jaw-dropping tulip farms, or Washington's Mount Rainier National Park that boasts countless tantalizing wildflowers around an Instagram-worthy lake.
Plus, the drive itself can also be a great way to bond with the family.
Budget — Set a Picnic at the Nearest Park
One of the best ways to enjoy the beauty of nature is to spend time being one with it. Setting up a picnic can be an excellent way for the kids to get used to going outside once again. After years of being cooped up inside the house, playing around in a park can be a good reward for their patience. And it can also be the perfect romantic move to sweep your partner off of their feet. A DIY charcuterie board can be quite the charmer since you can intricately pour your love into every piece of food on the board.
Summer
Going hiking is one of the best ways to exercise as a family. You get to share a thrilling experience with the kids while exposing them to the wonders of nature. It can also be a teachable moment where you can improve their problem-solving skills and independence.
Yosemite, Zion, Glacier, and Grand Canyon are just a few of the numerous national parks famous for hiking and camping. And to bring it to a higher level, you can book an Airbnb of the most sought-after cabins. If that doesn't do the trick, nothing will.
Budget — Stick to Backyard Camping
It's not only financially wiser but also safer compared to camping in the woods. You'll avoid all the hassle of planning, gear-buying, and packing. You'll have access to a fully functioning and clean bathroom. And it's more schedule-flexible compared to the alternative.
If you want to make it a more authentic camping experience, scary stories around a bonfire can do the trick. Add in a bit of s'mores, and it's perfect.
Autumn
Contrary to popular belief, a fall beach vacation is much more beneficial than going there over the summer. Aside from beaches being less crowded, the seawater and sea breeze are more refreshing and cooler. Since the sunlight is not as strong as summer's, staying for longer does not endanger your skin.
Miami and South Carolina are both home to the best beaches in America. But if you truly want to spoil yourself and your family, going to Maui is the way to go.
Going biking is a great way to bond with your family. It lessens the risk of cardiovascular diseases by improving your blood circulation and stimulating your heart and lungs. It reinforces the muscles in your heart and reduces the fat level in your blood at the same time. And most importantly, it's fun. You can race with your kids or stroll. Either way, your family will enjoy it without having to spend a dime.
The recent pandemic has shown how chaotic life can be. Spending time with the people you love and making great memories along the way has never been more important than it is now. But remember, no matter where you are, no matter what your budget is, as long as you're all safely together, you can make any moment memorable.