Being a parent is hard enough under normal circumstances, but throw in a global pandemic, and it can feel downright impossible at times. Between working from home, homeschooling, and trying to keep everyone healthy, it's no wonder parents are under a whole lot of stress.
Studies show that parents are more stressed than before the pandemic. Up to 48% of parents said they feel more stressed than before when there was no pandemic. The crisis paved the way for unique challenges that made parenting more stressful.
These are four examples of parents' most significant challenges during the COVID-19 pandemic.
Keeping Up With Everyone's Health Needs
One of the biggest concerns for parents during the pandemic is keeping their families healthy. With a virus that is still relatively new, there is a lot of uncertainty about how it spreads and how to best protect yourself from it. This can increase anxiety for parents worried about their children getting sick.
Parents can deal with such a challenge by staying up-to-date on the latest information from reliable sources, such as the Centers for Disease Control and Prevention (CDC). This will help you make informed decisions about how to keep your family safe.
Parents are also responsible for keeping every family member by crafting a healthy routine. Aside from encouraging all family members to have adequate rest and sleep, eat a healthy diet, and stay active, be sure to remind everyone to take their vitamins. As much as possible, getting COVID-19 vaccines should be a priority for everyone.
You should also have a plan in place in case someone in your family does get sick. For example, if you suspect one of your kids to have COVID due to the symptoms they show, it is crucial that you take your child for pediatric COVID testing. The earlier your child gets tested, the better.
It also helps if the urgent care clinic you'll be taking your child to an urgent care clinic that also offers the COVID-19 vaccine. This way, your kids can get extra protection if they are 12 years old and above. By keeping everyone's health in check, you'll enjoy better peace of mind.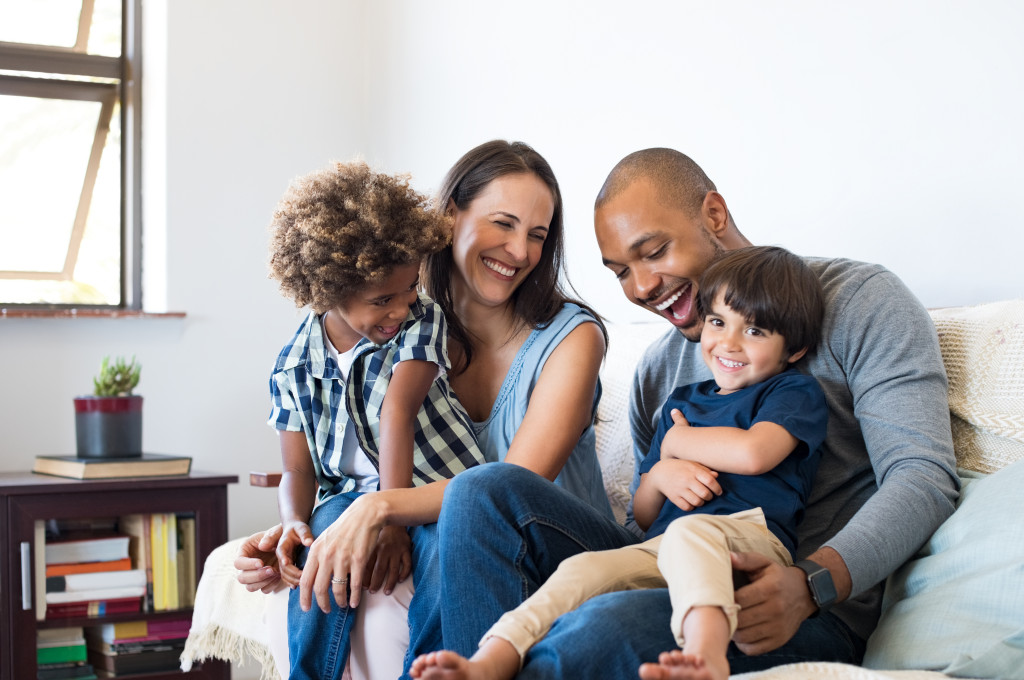 Homeschooling and Working
Some parents have taken on the responsibility of homeschooling their children during the pandemic. This can be a daunting task, especially if you don't have any teaching experience. There are also parents who can't afford to stay at home to homeschool their kids as they still need to work to support the family.
Fortunately, there are several resources available to parents who are struggling with homeschooling. For example, many school districts offer online learning portals that students can use at home. There are also many free online resources that you can use to supplement your child's learning.
If you're working from home while also homeschooling your kids, setting up a dedicated homeschooling space is best. This will help your children focus on their work and minimize distractions. You should also try to create a daily schedule that includes breaks for you and your kids.
If you're still working outside your house, find a reliable someone to watch your kids while working. This can be a family member, friend, or paid babysitter. The most crucial thing is that you choose someone who you trust and who will be able to provide the care your children need.
Finances
The pandemic has also taken a toll on many people's finances. With so many people out of work, it can be difficult to make ends meet. This can be a significant source of stress for parents trying to provide for their families.
To manage financial stress, create a budget that will allow you to live below your means and stick to it as much as possible. This will help you track your spending and ensure you're not overspending.
Second, try to save as much money as you can. This can be tricky, but even putting away a small amount each month can help you build up your savings. You may also consider cutting back on non-essential expenses, such as entertainment, dining out, and travel.
Finally, take advantage of all the resources available to you. This may include government assistance programs, such as food stamps and unemployment benefits. There may also be programs offered by your local community, such as utility assistance or rent assistance.
Increasing Screen Time
During the pandemic, more kids are spending time on their screens. Parents often allow gadgets to babysit their kids just to get things done and enjoy some peace and quiet. To top it all off, many schools moved to online learning. All these factors increase the amount of screen time kids are getting.
While there's nothing wrong with using screens, remember that your children should use them healthily. This means limiting their screen time to two hours per day. It also means ensuring that they're using their screens for educational and beneficial activities, such as watching educational shows or playing learning games.
It only makes sense to create a schedule that includes screen-free time for other activities, such as outdoor play, reading, and crafts. This will help your kids stay active and engaged while giving them a much-needed break from their screens.
The pandemic has been a tough time for everyone, but parents have had to shoulder much of the burden. Many parents have had to deal with different problems over the past two years. By taking advantage of the many resources available and making some small changes in your routine, you can help reduce stress and make the most of this challenging time.