Spring is in the air, and that means it's time to start thinking about sprucing up your outdoor space. Whether you have a huge backyard or just a tiny patio, there are many ways to turn it into a beautiful sanctuary that you can enjoy all summer long. Here are some ideas to get you started.
1. Bring in some greenery.
Adding some greenery is one of the quickest and easiest ways to transform your backyard. You can plant a garden with all your favorite flowers and vegetables if you have a green thumb. If not, don't worry — plenty of low-maintenance options, like potted plants and succulents, will still add some life to your space.
You can also use trees and shrubs to create privacy or delineate different areas in your backyard. For example, you could use tall trees to define the edges of your yard or a hedgerow to create an intimate space for entertaining.
Additionally, adding a small pond or fountain can instantly bring life and beauty to your space. The sound of trickling water will create a calming atmosphere, and you can use it as an opportunity to introduce some aquatic plants like water lilies for added interest.
2. Create a cozy seating area.
No backyard is complete without a comfortable place to sit and relax. If you have the space, setting up a seating area with a sofa, chairs, and a coffee table is a perfect way to create an outdoor living room. Consider a bistro set or just a few chairs around a fire pit for smaller spaces.
And if you really want to get creative, try hanging a hammock or swing from a tree. This will create a cozy spot to take in your surroundings and enjoy the warm summer days. Moreover, you can use outdoor rugs and cushions to add a splash of color and pattern.
Whatever you choose, the key is to ensure your seating area is comfortable and inviting. That way, you'll be able to enjoy it all summer long.
3. Secure your privacy with a fence.
If you want to ensure complete privacy in your backyard, consider installing a wood fence. This will provide both security and aesthetic appeal while also creating a sense of definition around your space.
Just make sure to use quality wood fence components available in various shapes and sizes, so you can customize them to fit the style of your home. You can also choose to paint your fence in a color that complements the rest of your backyard or opt for a natural, stained look if you prefer.
Either way, consider adding an arbor or trellis for height and visual interest. This will also help to block out unwanted noise from the street as well as provide a spot for climbing plants like ivy or honeysuckle to grow.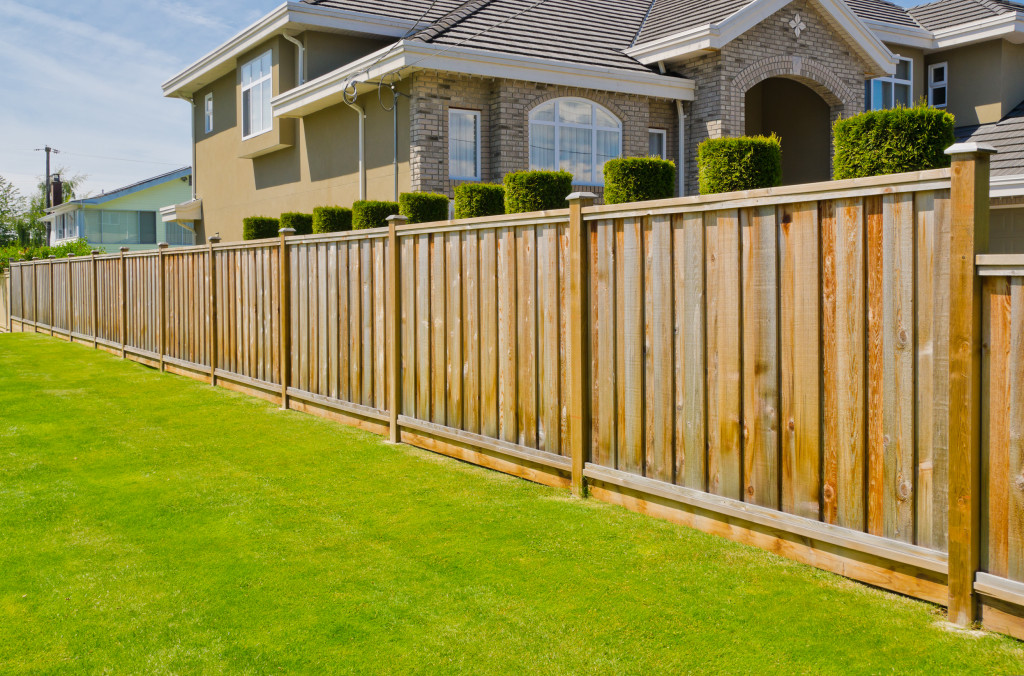 4. Add some water features.
Another great way to transform your backyard is to add water features like ponds, fountains, or waterfalls. Not only do they look beautiful, but they can also provide soothing white noise that will help you relax.
If you're not ready to install a pond, try filling up a birdbath or placing some solar-powered water fountains around your yard. These are easy to set up and can be moved around whenever you need to.
No matter what type of water feature you choose, make sure it's properly positioned. Consider the sunlight, shade, and wind patterns in your backyard before deciding on a spot so that your feature will be both aesthetically pleasing and functional.
5. Install outdoor lighting.
Outdoor lighting is essential for both function and ambiance. Path lights will help guests find their way after dark, while spotlights can highlight specific areas or features in your yard. String lights also add some extra sparkle and create a warm and inviting atmosphere.
And don't forget about solar lights — they're easy to add lighting without running wires all over your yard. Not to mention, they are eco-friendly and will save you money on your energy bill.
Finally, make sure to pay attention to the placement of your lights. It's best to position them low and close to the ground, so they provide the right amount of illumination without being overpowering.
6. Add personality with accessories.
Last but not least, don't forget to accessorize! There are endless ways to personalize your outdoor space with accessories like rugs, pillows, planters, and more. Choose items that reflect your personal style and make you feel at home in your backyard oasis.
For example, you can hang wind chimes from trees to create a peaceful ambiance or place potted plants around your seating area for a splash of color. You could also install trellises with climbing vines or add birdhouses and feeders for feathered friends.
Whatever you choose, remember that the key is to create an inviting and comfortable space. With a few tweaks and touches, you'll be able to turn your backyard into an idyllic sanctuary that you can enjoy all summer long.
With warmer weather on the horizon, now is the perfect time to start thinking about ways to spruce up your outdoor space. Whether you want to add greenery, create a cozy seating area, or simply accessorize with personality-packed accessories, there are endless possibilities when it comes to transforming your backyard into a beautiful sanctuary. So get creative and start planning your perfect backyard oasis today!