Nothing brings us better peace than having a nature-inspired home. Our home is our natural oasis, after all. The sight, sound, and even smell of nature can both energize us and calm us down, and this only makes us want to bring the outside inside.
Don't stop at succulents and potted plants. Explore these other ideas on how to remodel your home to look more like Mother Nature's haven.
Use organic materials for your flooring
Nothing brings harmony to your home better than wooden walking spaces. Whether you're going for a country, traditional, or luxurious look, suppliers of timber flooring can give you a variety of options. Hardwood flooring made of oak or maple, after finishes, gives your floor a luxurious sheen. Meanwhile, those made of walnut or mahogany reflect a more rustic style for your space.
Other things to consider for your flooring are the finish and the made. Most floors are finished, but unfinished floorings work exceptionally well in kitchens and shower areas where water won't seep into the seams. On the other hand, choosing between solid or engineered hardwood floorings is based on how stable you want your floors to be.
Get furnishings with earthy features
Once your floors boast that natural look, your pieces of furniture should follow suit. Earthy elements can find their way everywhere: tables, drawers, chairs, lamps, carpets, or picture frames. For these, wood is still a significant motivation. Wood grains, trunk sections, and primed branches as hooks shelf dividers help you achieve the look. You can also have items inspired by animals in the wild, such as cowhide rugs and butterfly wind chimes.
However, don't limit your options by just choosing pieces inspired by the wilderness. Explore sleek lines combined with slabs of wood, or crisp-white furniture paired with patterned runners and covers. These help your space feel more spacious or light to the eyes.
Let natural light into every space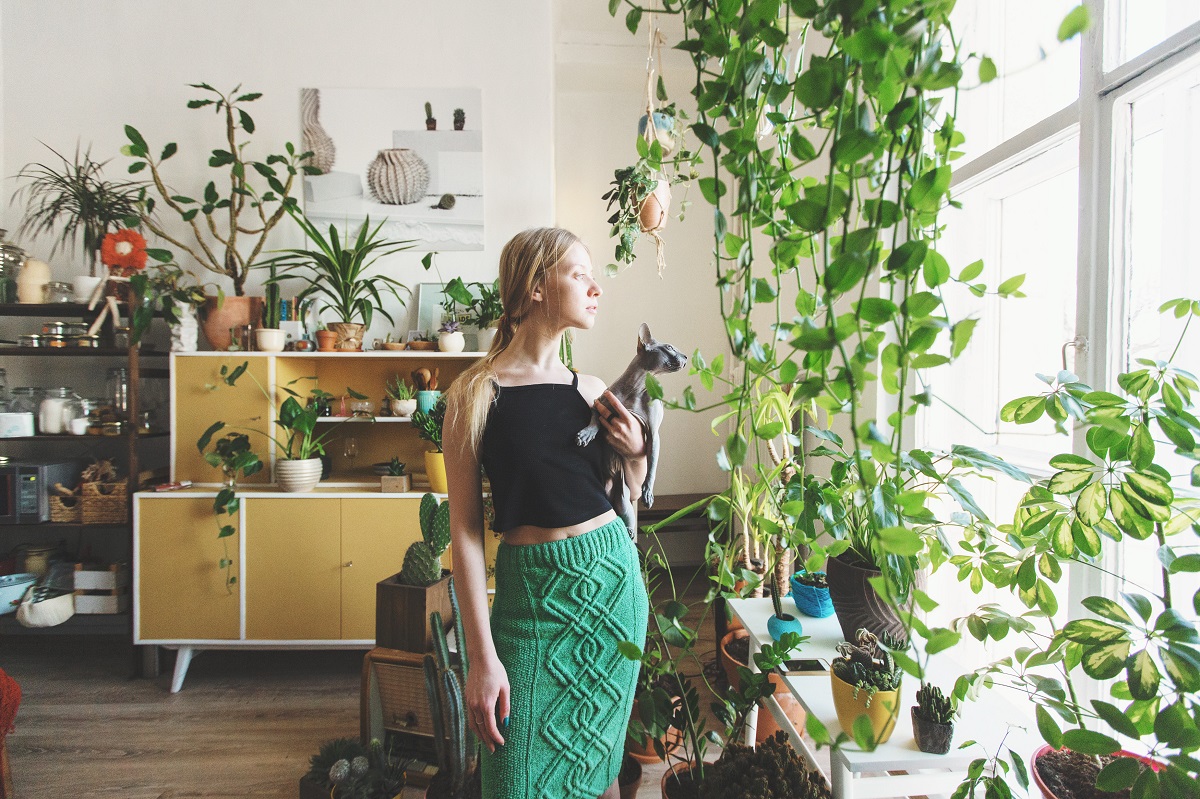 Speaking of light, make sure to give it ample access. Your place can start to feel bogged down by heavy, earthy hues. Thus, consider remodeling with sliding glass doors in significant access points. You can install awning windows or double-hung windows for better ventilation as well. Strategically adding more mirrors also helps sunlight spread.
A less drastic option is to change your curtains. Use open-weave drapes made of lace or linen so that sunlight can quickly disperse around a room. Don't fall into the trap of choosing light-colored drapes, as these reflect sunlight.
Scintillate your senses
Achieving a nature-inspired interior goes beyond visual elements. Delve deep into what activates your senses. Explore options like installing a smart-controlled home stereo system or adding slim sound bars onto your ceiling. Explore ambient sounds such as rolling waves or forest echoes to improve your mindset.
You can also get into aromatherapy. Nowadays, aromatic essential oils and gels, scented candles, and automatic mist sprays are getting more and more popular. These products work to uplift your mood, control how your emotions fluctuate, or make you more productive. Thus, don't be afraid to switch up these scents. Use them deliberately during certain times of the day in individual rooms to maximize their effect.
Ultimately, the most important natural element in any home is its resident – you. Live cleanly, naturally, and sustainably so that you can build a better relationship with nature herself.