Parties can be much more comfortable at home, especially if your guests are mainly family members and relatives. But preparing your home for a party, and a big one, especially, can be daunting. Obsessing over whether you have enough entertaining spaces can be stressful, and if little children are coming over, there's also the fear for their safety should they ran over sharp edges.
To ease these anxieties, sprucing up your home will be the solution. You don't even need ample space to accommodate several guests; smart space planning will do the trick. Party-ready furniture is also the key, and you don't even have to purchase them because party tables and other furniture rental services are available in Utah.
That said, here's exactly how to get your home ready for your next party:
1. Scale > Size
As mentioned, large spaces aren't a necessity when hosting several guests. The scale is more important than size when planning an entertainment-ready space at home. Coziness should be evident during parties, so forget about high ceilings and long tables that tend to give off the opposite.
To understand scale, picture this scenario: high ceilings call for taller and more imposing furnishings, whereas a low ceiling space complements low furniture. In a larger room, bulky furniture look better, while smaller and petite furniture would undoubtedly suit more limited areas. If you're hosting a party, you'd be better off with more comfortable and inviting atmospheres, which a small room tends to emit more.
2. Provide Lots of Sitting Areas
Sitting areas would be the main hangout space during parties. In your living room, temporarily replace your center table with an ottoman to provide extra seating. The soft material also makes it safer for kids running around. Sectional sofas or settees are also great party-ready furniture. It serves a more intimate space for watching movies snuggled close together or for some heartfelt conversations.
3. Cozy Up The Kitchen
Formal dining rooms are no longer as trendy. Instead, people are now making use of breakfast nooks to make kitchens more entertainment-ready. Considering that your kitchen would also be crowded during a party, then the additional seating area would be more necessary. If you don't have a kitchen bar or a breakfast nook, you can rent barstools and specialty tables. It will be brilliant if your breakfast nook is situated somewhere with lots of natural light, or near a fireplace. That way, the area would look warmer and more inviting.
4. Utilize Outdoor Spaces
If the weather isn't a problem, then your yard can surely be used to accommodate guests. Some people prefer picnics or al fresco dining, so a party-ready yard would surely impress them.
5. Set The Mood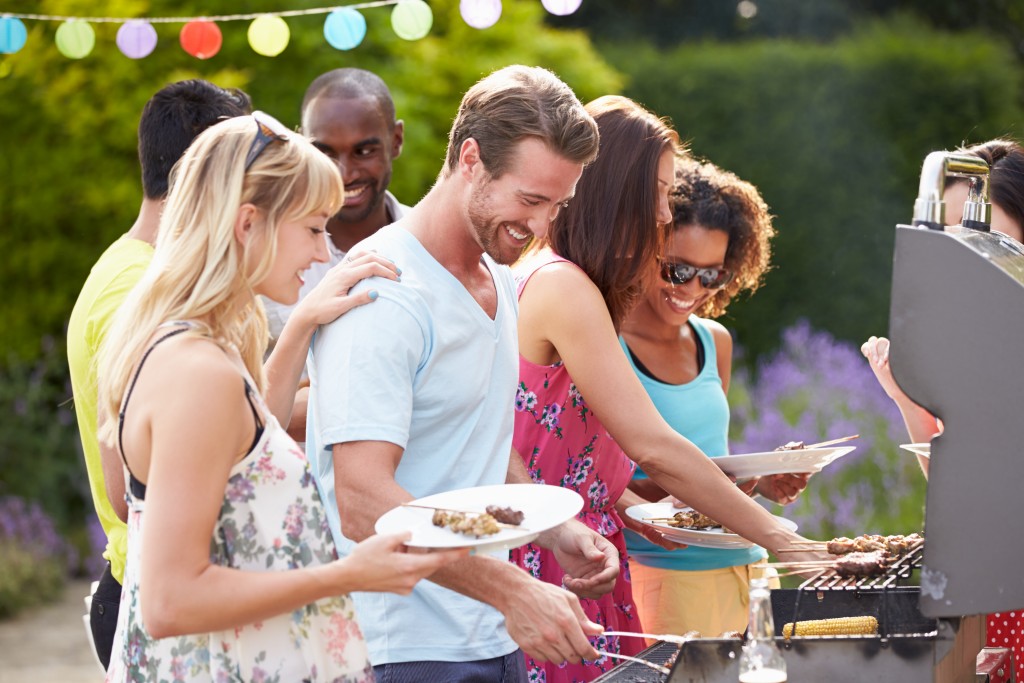 Music and lightning would set the mood for your party. Invest in or rent a high-quality sound system and make sure music is always playing, and not repetitively. As for the lighting, make sure your outdoor spaces are also adequately-lit, preferably with something romantic to enhance the al fresco dining experience.
While making your home entertainment-ready, remember that it's not a one-size-fits-all concept. Different parties require varying types of furnishings and space planning, and so do different guests. As long as you're willing to be flexible, then your home should also be ready to accommodate various exciting party themes. And the most important thing is to be sure that everyone's having a great time! So even if you can't provide everything listed above, your party will still be epic as long as you and your guests enjoy it.